Join Our Newsletter Email List

Problem on the Trail?
Have you had had a conflict on the trail with other users or encountered trail damage or closure? Visit the ParkWatch Report site: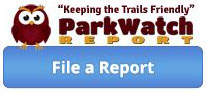 Workday Scheduling
If you know of a local trail that needs work, please contact our coordinator:

Trailwork

MVTrails.org,
Note: Scheduled Work Days are always on a Saturday or a Sunday. But we do have some members who work on trails during the week. Please call Chris at (530) 637-4707 to learn more.
Add Trail work to your
2016 To-Do List
Trails that are not maintained are eventually closed and lost forever.
This year, why not resolve to spend at least 4 hours helping to clear a trail? Future generations of trail users will thank you!


Got Photos?
If you have photos taken during a recent Trail Work Day event, please email them to our News Editor for use on our Facebook page. Group shots, individuals wielding trail tools, before/after shots of trailwork and scenic views are all welcome.
Sugar Pine Trail
The Sugar Pine Staging Area, at Winchester Drive and Placer Hills Rd., is located on property owned by the Christian Fellowship Church nearby.
It is a great privilege that the community is allowed to park there when using the Sugar Pine Trail. MVTA would like to thank everyone for being responsible with their trash and respectful of the land.
MVTA includes the Staging Area on its trail maintenance list and tries to keep the grass short, fallen tree debris cleared and trash picked up.
Esoteric Park Trail
While riding on the Esoteric Park Trails, please remember to keep your badge either visible or in a location where you can quickly display it at the request of the land stewards.
Don't have a badge yet? Members can obtain one, along with gate keys, by contacting:

Admin

MVTrails.org.
Using this land for trail riding or hiking is a huge privilege for MVTA members. Remember, this is a non-motorized trail system: Only bicycles, horses, and humans on foot are allowed. You may drive your vehicle to the staging area within the property, but all motorized vehicles are limited to the staging area.
Hidden Falls Regional Park
Exciting news! The new, expanded trail system at Hidden Falls is now open! Find out more about these wonderful trails HERE.
MVTA is represented on the Hidden Falls Forum and we will update our members as new developments surface.